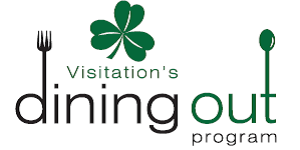 The Visitation Dining Out Program offers parents, friends and Vis parishioners the opportunity to support Visitation School while dining at local establishments on selected dates. Information about upcoming Dining Out Program events will be published on this page as well as through all Visitation communication channels: bulletin, e-news and social media!
GROCERY GRAB 2021!!!
The annual Grocery Grab fundraiser with Price Chopper and Cosentino's Market is underway. Think SuperMarket Sweep for some lucky Vis School supporter!
The School WINS! Tickets are $5 each… and all money goes directly to the School. Last year, we raised over $6,000! The more you buy, the more chances you have to win.
Everyone who buys a ticket WINS! Every $5 ticket gives you a coupon for $5 off your $50 grocery purchase (valid at Cosentino's Price Choppers, Cosentino's Market, and select Apple Market and Sunfresh stores). Buy more, save more—you're donating $5 and saving $5!
One person will WIN BIG! Each ticket you buy is a chance to win a 5-minute Grocery Shopping Spree and other great prizes! Purchase as many chances as you wish… the more you buy, the more you save (and the better chance of winning)! Tickets must be purchased by Nov. 29, 2021. Purchase your Grocery Grab tickets online here.
For more information about the Visitation Dining Out Program, contact Emily Vogt.