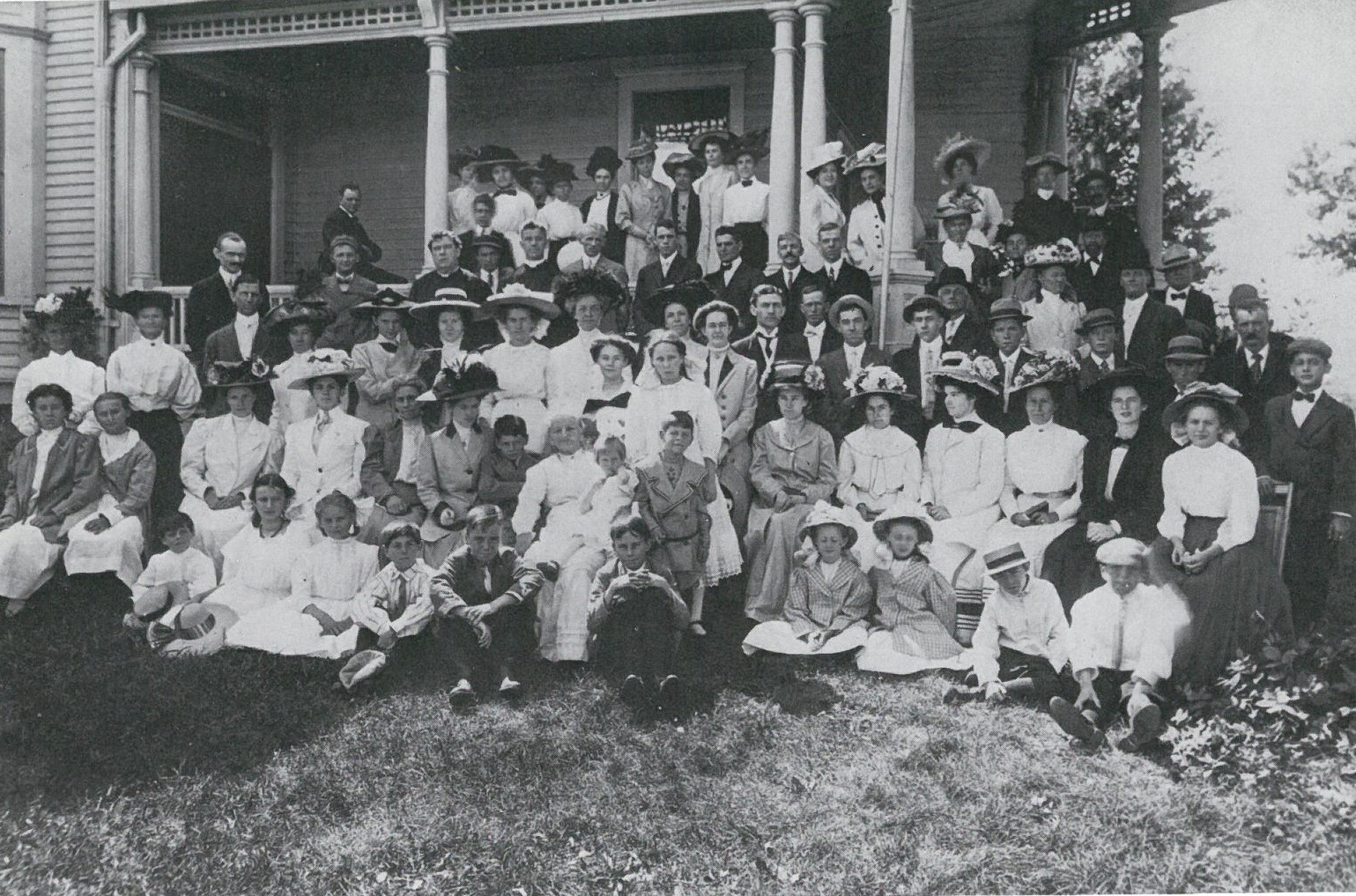 In August 1909, Fr. Thomas McDonald met with Kansas City's Bishop John Hogan to discuss the need for a Catholic parish in the southern part of the city between McGee and State Line, an area of mostly farmland. Less than a month later, the first Mass was held in Fr. McDonald's family farm home on September 5. Yes, Old McDonald had a farm, and on that farm he had a church.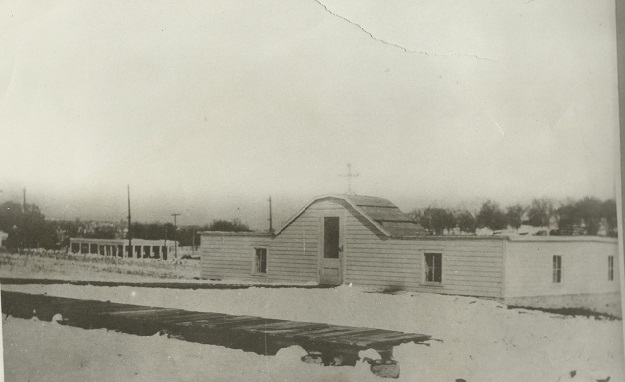 With 12 families totaling 82 members, the new parish Visitation of the Blessed Virgin Mary was born. A temporary church was erected on the NE of Grand Avenue and Rock Spring Road on the McDonald farm. The crude structure was known as "The Catacombs." In October 1909, it became Visitation's first church.
By the following spring, it became clear a more permanent church building was necessary, and money was needed to pay for it. Visitation parishioners have always been generous and rather creative in raising funds for their church. Visitation's archives include the very first parish announcement notebook containing Fr. McDonald's careful, handwritten notes on parish happenings. One way early Visitation parishioners raised money for the church was by holding social gatherings, including lawn socials and card parties. However, it was a non-parishioner who came through in the spring of 1910. The 1959 parish history describes how it came about. Fr. McDonald told his friend, who was a pastor in Rosedale, Kansas, about Visitation's need. As it happened, an old Belgian farmer in the Rosedale parish found himself with a bit of extra money and had told his pastor of his desire to invest it. A meeting was arranged between Fr. McDonald and the farmer. Afterward, the old farmer went to his barn, dug up a rusty can containing $1500 worth of gold and invested in Visitation.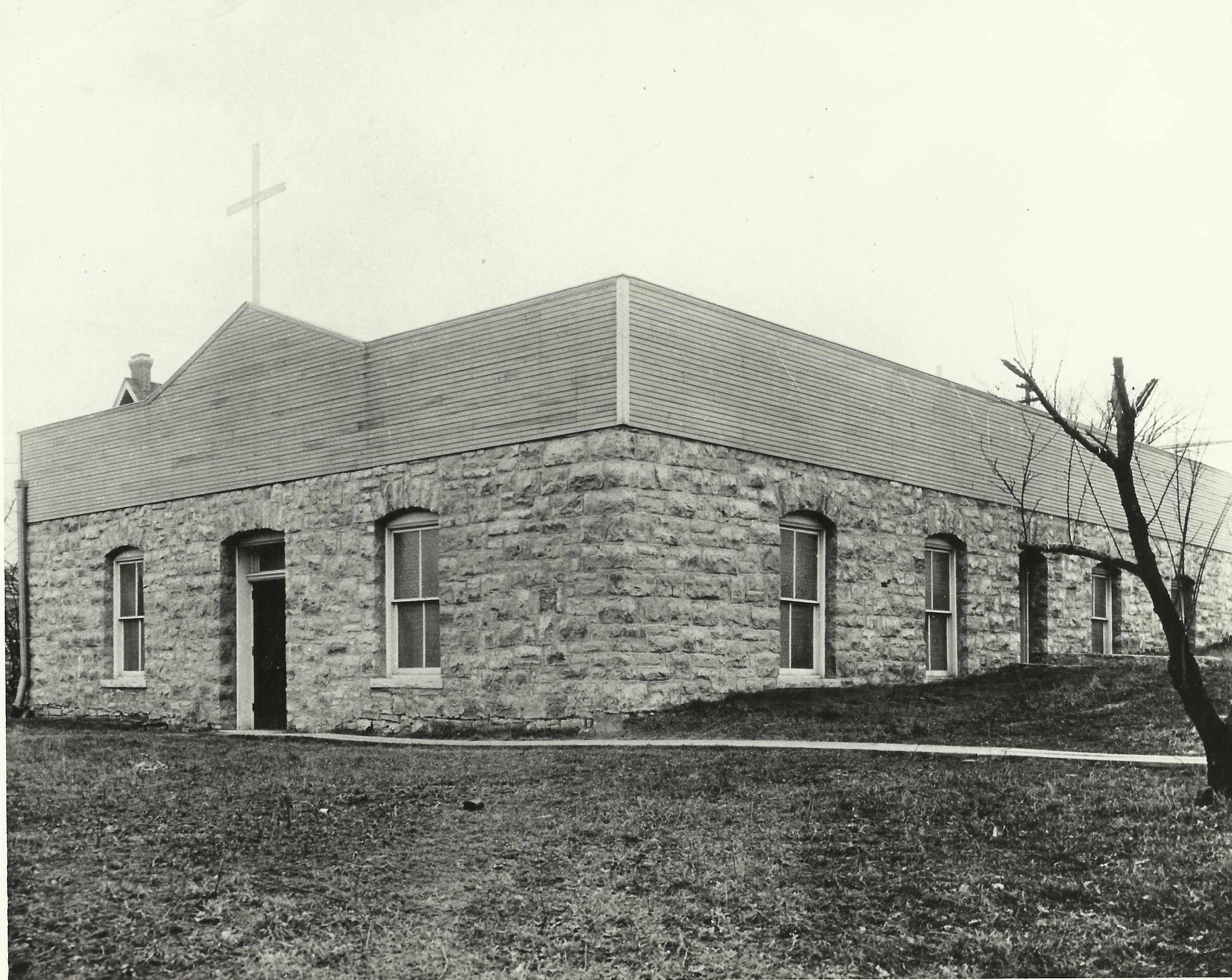 With that money, a plot of land at the SE corner of Main & Rock Spring Road (now 51st Terrace) was purchased, and a 50' by 70' foundation was laid for the church, which was estimated to cost $35,000. The new structure was ready for its first Mass January 1, 1911. The foundation was exten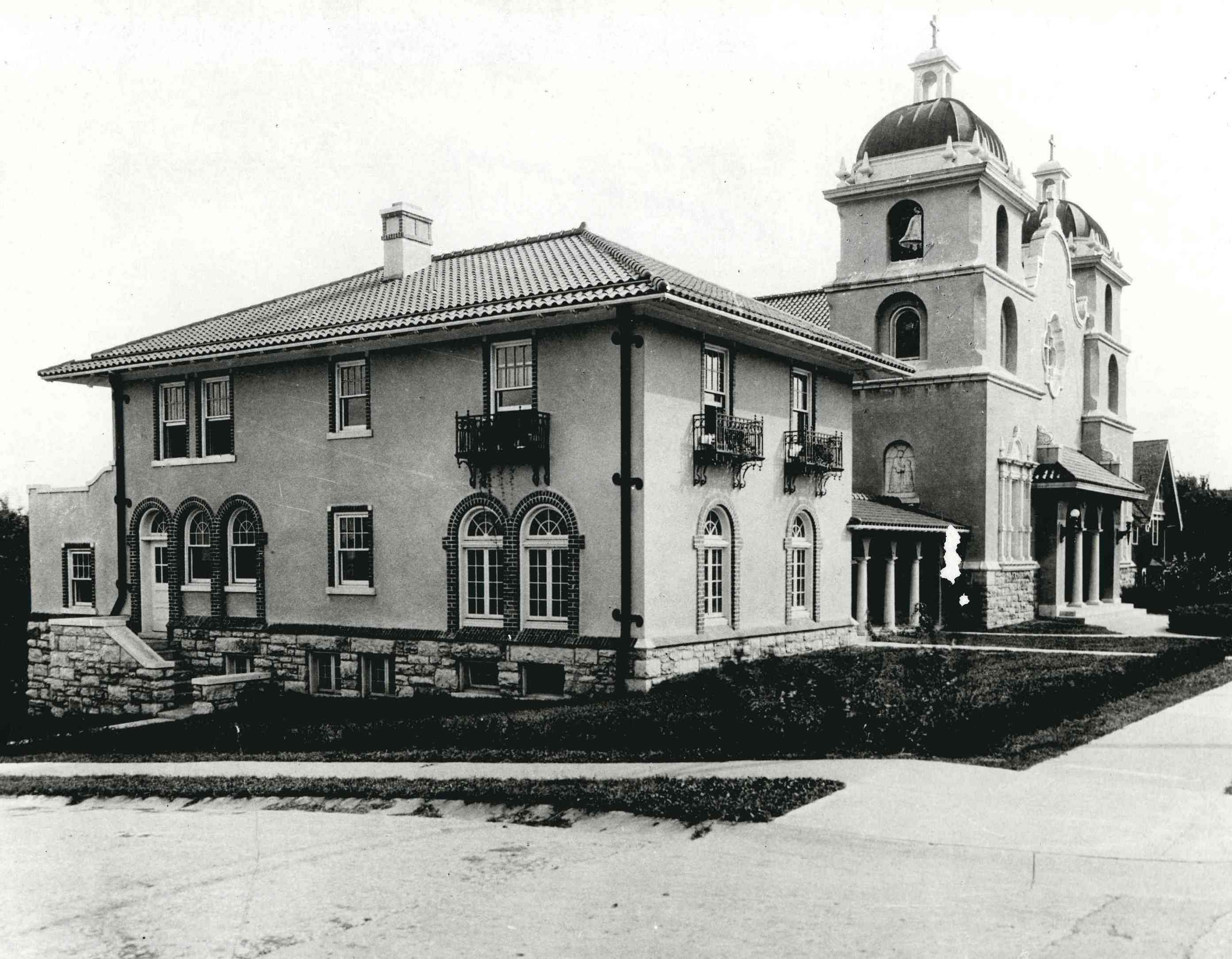 ded again in 1915 with plans for a new and permanent church. On June 6, 1915, the cornerstone for the new structure was put in place. On May 6, 1917, the third Visitation Church (at its present site) was dedicated. Built in the Spanish Mission style and patterned after Santa Barbara Mission, it is rumored to be the inspiration for JC Nichols' Country Club Plaza. You may have heard the story that JC Nichols used to walk by the church and admired its style so much that he patterned the Country Club Plaza after it. Whether that is true, it is true that Visitation was built before the Plaza. We were here first!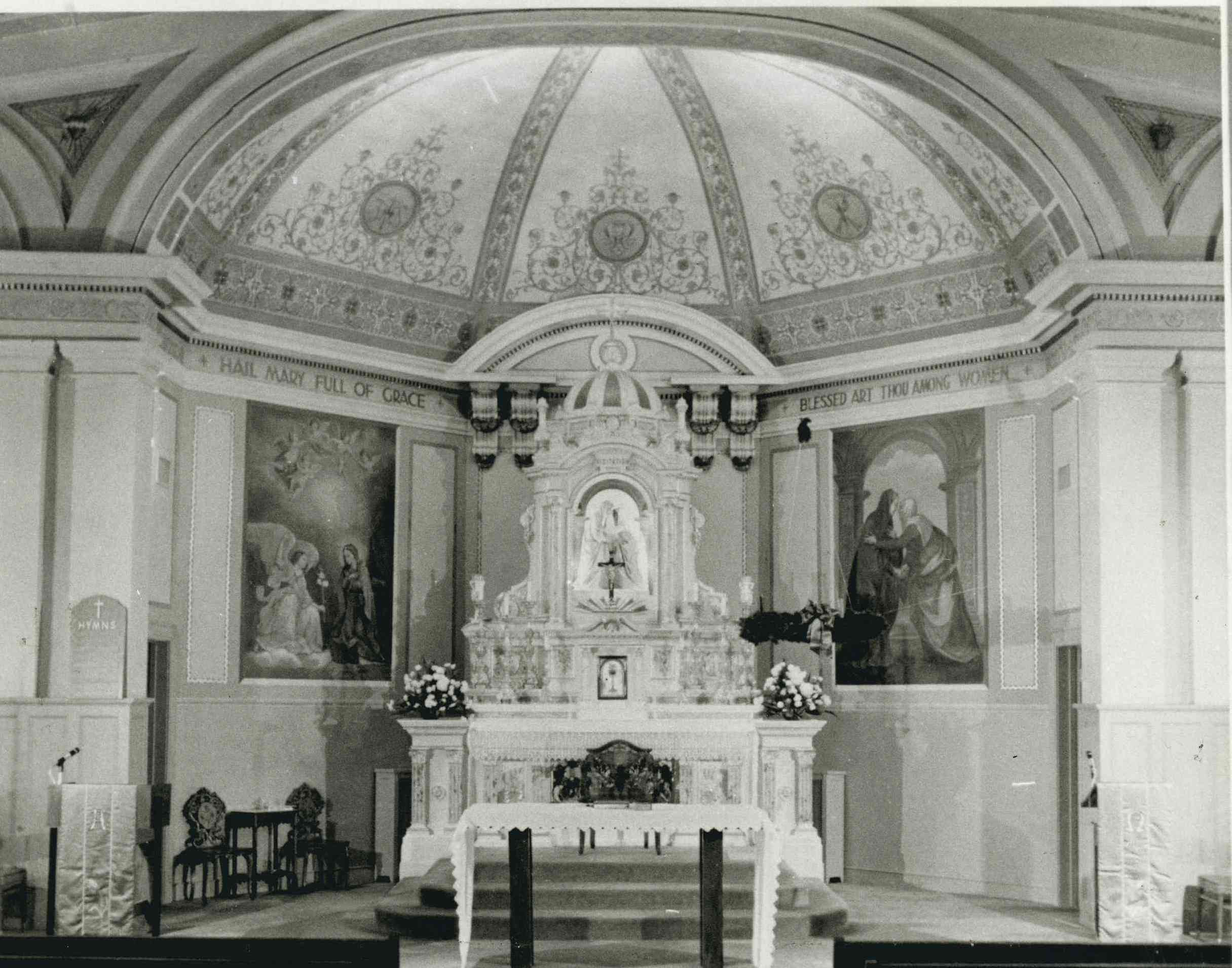 It wasn't until May of 1920 that the church was completed. The main altar and communion rail, donated by Mrs. T.J. Pendergast, were the final additions. The church chimes, dedicated November 20, were a gift from E. J. Sweeney, founder of radio station WHB, one of the first seven stations in the United States.
Visitation continued to grow rapidly.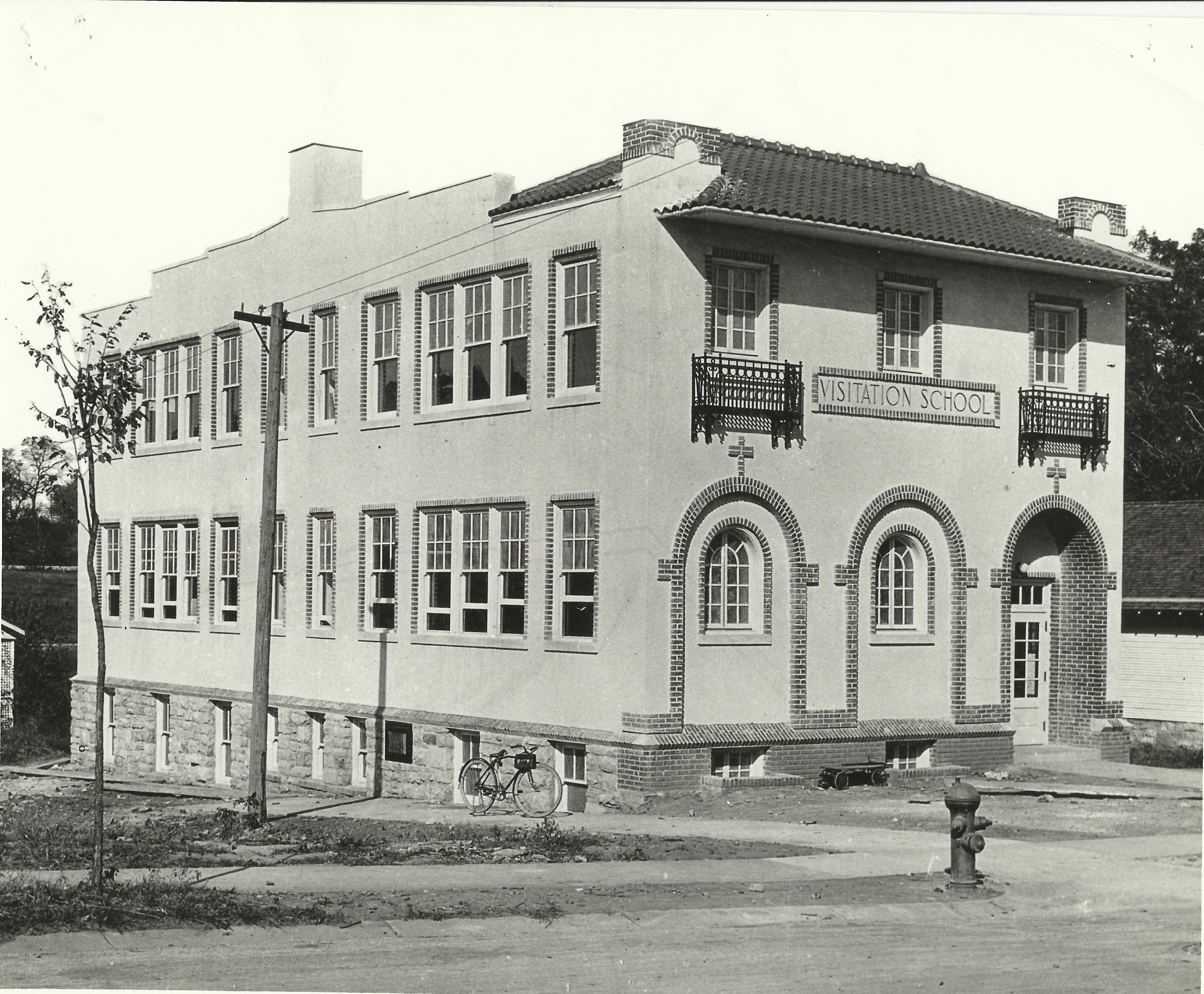 In 1921, land was purchased a block west on Baltimore to build Visitation School at a cost of $15,000. More land was acquired for the school playground in 1923, and in 1924, two more lots were purchased for additions made in 1925. A gym was built in 1940 and another school addition added in 1949.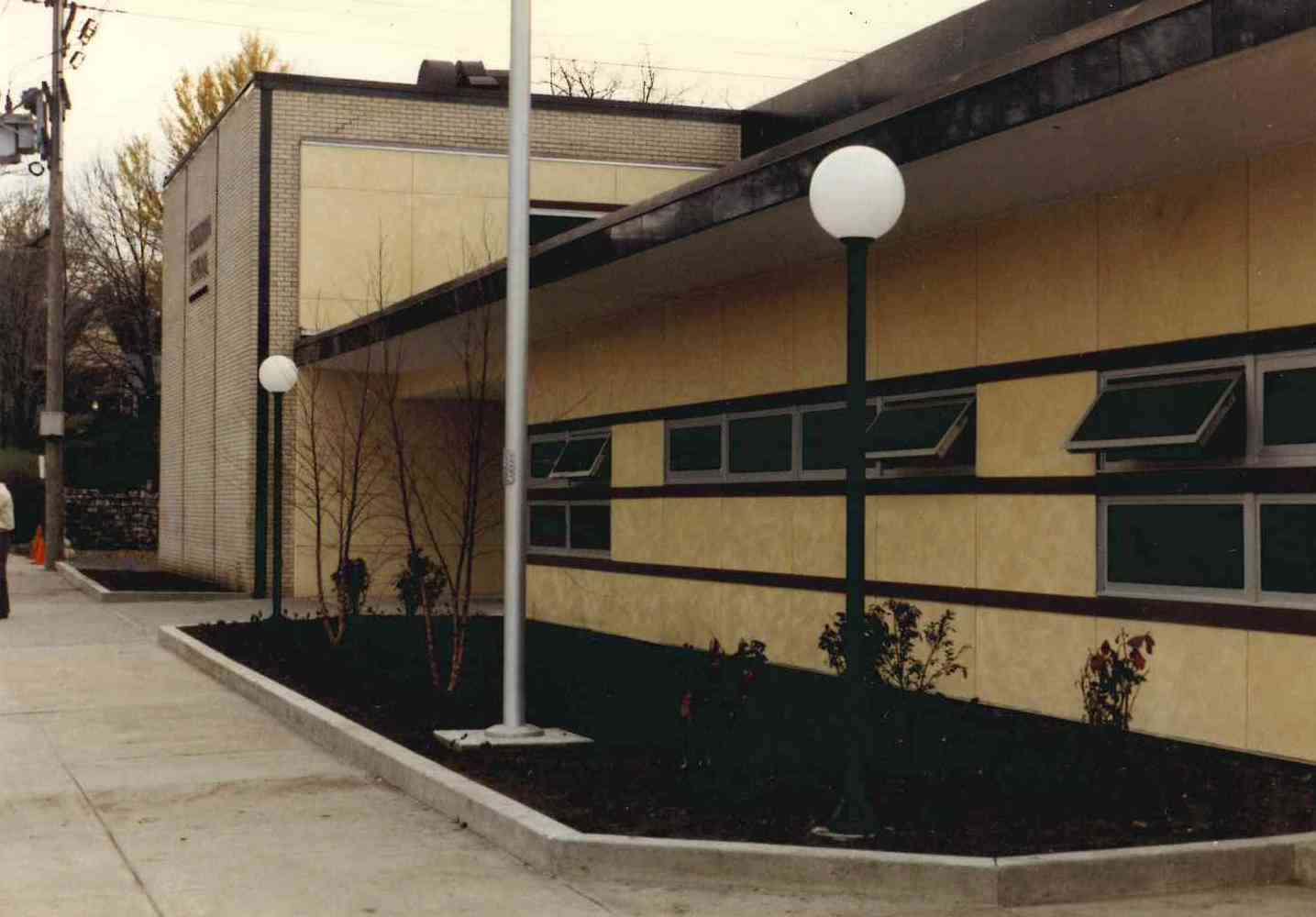 Several more additions were made over the years. In November of 1947, Monsignor McDonald broke ground for a new eighteen-classroom Visitation School, which was renamed the Monsignor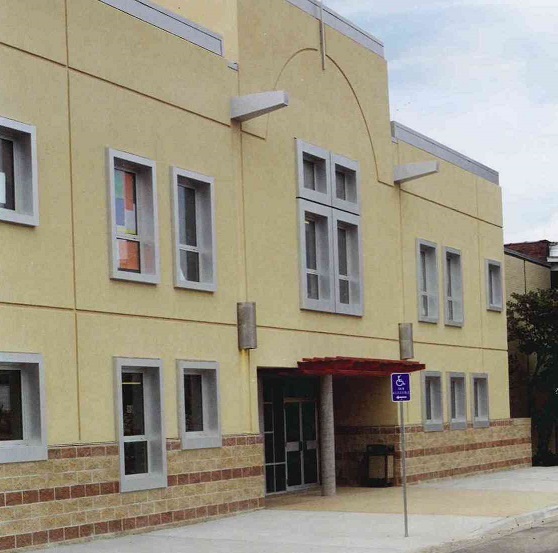 Thomas B. McDonald Memorial School. On December 1, a convent for the Sisters was completed just south of the church. Prior to the convent being built, the Sisters lived at St. Teresa College at 57th and Main. That convent is now the priest residence. Vistation School underwent a renovation in 2000. About that time, Visitation School made the decision to expand to 3 classes per grade. To accommodate this, classrooms for Kindergarten were added in the basement of the church when Tighe Hall and the church were renovated in 2004.
The Parish Hall downstairs was added in 1953 as the St. Anne's Chapel, designed to hold 600 people for Mass. The chapel was then remodeled in 1973 and named after Monsignor McDonald's successor, Monsignor Arthur M. Tighe, thus Tighe Hall.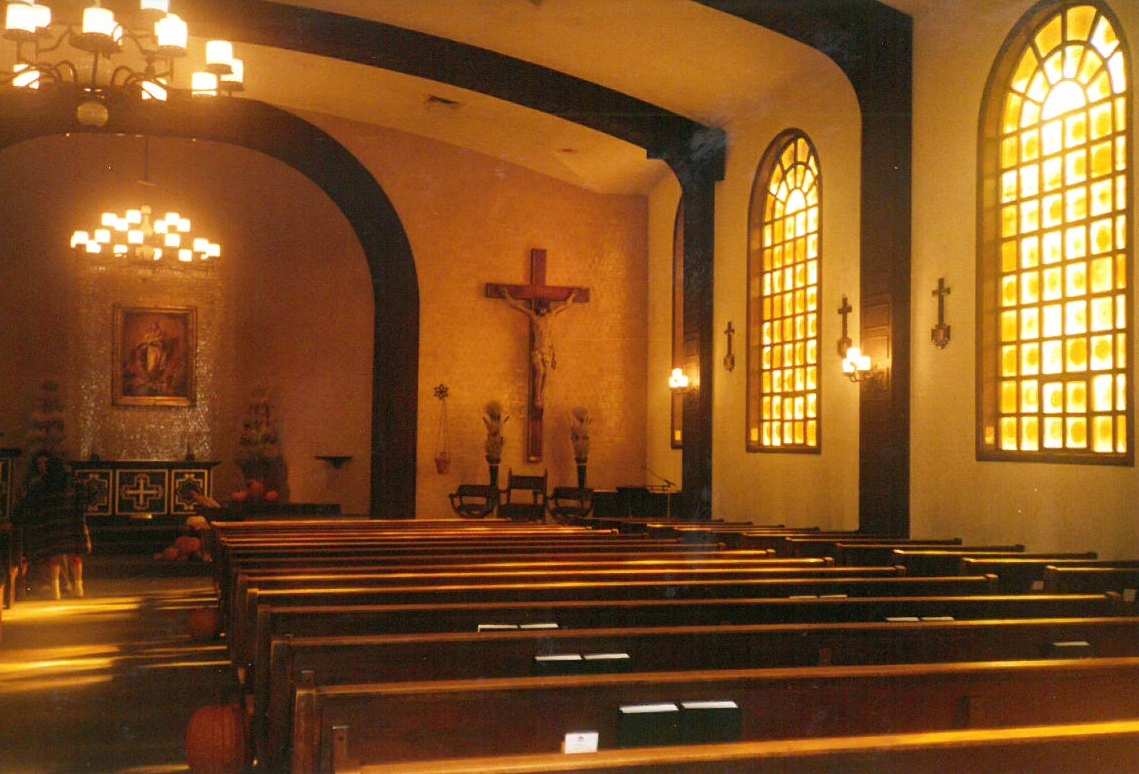 On January 2, 1974, Visitation Church was closed for a complete renovation under the supervision of Fr. Richard F. Carney, Visitation's third pastor. When the church reopened on May 19, all that remained of the previous church was the structure, the bell tower, and the stained glass window depicting The Visitation, which was reframed and hung on the northwest wall of the church. Down came the heavy marble altars, neo-classic molding and arches and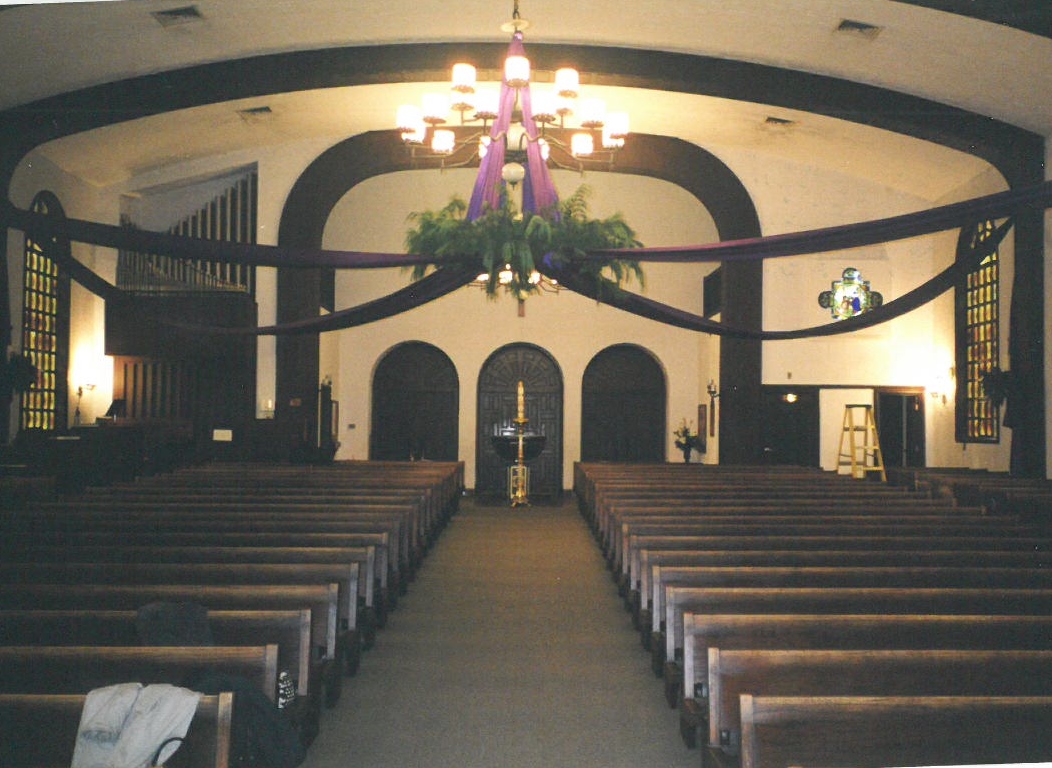 lead glass windows. In their place came wrought iron sconces, Mexican amber glass rondels and Yucatan mahogany furniture. With them came the statue of the Visitation, created in 17th Century Spanish style located now in a chapel area on the north side of the nave, and a larger than life crucifix with wooden corpus containing piercing eyes, which is now hanging in the stairwell leading to Tighe Hall.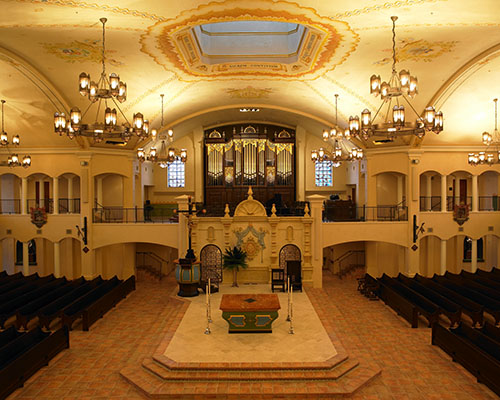 Many who witnessed that amazing 1974 renovation were also here in 2004 to see an even more breathtaking transformation with the dedication of our current worship space. The narthex used to be most of the actual church which was extended much further to the east. The project, led by Fr. Norman Rotert, finally brought us a space large enough to hold everyone for the Easter Vigil and Christmas Eve Masses, previously standing room only events. It also eliminated the need for Mass downstairs. Instead of "Tighe Hall Mass people" and "Main Church Mass people", we became one Visitation people. From the sacred simplicity of the St. Joseph Chapel to the grandeur of the dome with its dove hovering over our Eucharistic table, our present church building truly captures the glory of God. The church is a beautiful blending of private devotional chapels tucked around a grand communal worship space, with all pathways leading to the source and summit of our faith, the Eucharistic altar.
We've come a long way in 100+ years. Yet, we still feel the connectedness to those first 12 families. No matter the building, be it a farmhouse, a catacomb, a plaster and marble edifice, or a Spanish Mission replica, we are a community of welcoming believers, bound by a communal table, wanting to share our faith with each other and the community, and to pass it on to each new generation, including all of you.
VISITATION PASTORS
Visitation has been served by nine pastors. Founding pastor, Thomas Benjamin McDonald, served from 1909-1957. McDonald was succeeded by Arthur M. Tighe (1957-72), Richard F. Carney (1972-1981), Henry G. Bauer (1981-83), Thomas Minges (1983-86), Robert A. Rost (1986-1995), Norman Rotert (1995-2005) and Patrick J. Rush (2005-2016). Our current pastor, Bradley S. Offutt, came to Visitation in July 2016.