CONFIRMATION 2024
Just as bodies and minds grow, Catholics believe that the soul also needs to grow in the life of grace. The sacrament of Confirmation builds on the sacraments of Baptism, Penance and Holy Communion, completing the process of initiation into the Catholic community.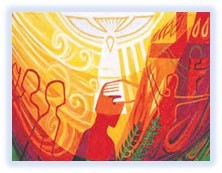 Registration will open soon for all baptized Sophomore Candidates. No late registrations accepted. Confirmation will be held April 10, 2024 at 7:00 pm. All Confirmation sessions will be held in Tighe Hall.
SAVE THE DATE: PARENT MEETING - All parents will be asked to attend a parent meeting on either Sunday, September 24 or Monday, September 25 at 7:00 pm.
Questions about the 2024 Confirmation program? Email Jenny Greene.