CONFIRMATION 2023
Just as bodies and minds grow, Catholics believe that the soul also needs to grow in the life of grace. The sacrament of Confirmation builds on the sacraments of Baptism, Penance and Holy Communion, completing the process of initiation into the Catholic community.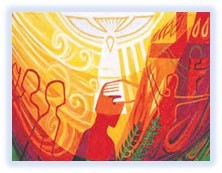 Registration is now open for all baptized Sophomore Candidates from August 29 - October 1, 2022. No late registrations accepted. Confirmation will be held April 20, 2023 at 7:00 pm. All Confirmation sessions will be held in Tighe Hall.
SAVE THE DATE - CONFIRMATION ORIENTATION SESSION for candidate and one parent will be held Sunday, October 17, 2021 at 12:00 Noon in Tighe Hall.
Confirmation fee of $50.00 is due upon registration and may be done online here. (Scroll down to Program & Activity Fees, enter quantity and enter candidate name.) You may also submit a check made payable to Visitation in the amount of $50.00 with Confirmation in the memo - place check in an envelope Attention: Chris Sanders and drop off at the parish office or send via postal mail.
Questions about the 2023 Confirmation program? Email Chris Sanders.